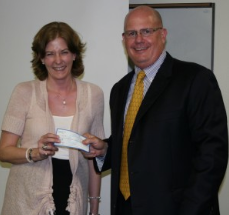 Andrea Hamilton, PC-TAG Chair, presented a $31,551 check to the Highland Park Independent School District (HPISD) at the district's Board of Trustees meeting on April 10, 2012. The gift funds requests from teachers at all seven HPISD campuses in support of the district's Talented and Gifted (TAG) and enrichment programs. In accepting the gift on behalf of the board, HPISD Board of Trustees Finance Officer Joe Taylor noted that PC-TAG's continued support of all campuses in the district was greatly appreciated.

The current year gift enabled the purchase of enrichment items that include iPads for use in the classroom, curriculum enrichment materials, classroom technology, support for academic competitions, elementary math journals, robotics kits, science kits, teacher scholarships, field trips, presenters for the summer institute, and summer curriculum development, to name a few.

With a focus on advocacy, education for parents, and fundraising to support academic and extracurricular programs, PC-TAG's efforts have consistently helped support a more enriched learning environment throughout the district.