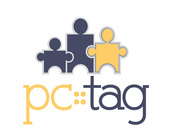 PC-TAG is proud to announce the results of the organization's "TAG You're It" fundraising campaign, which was conducted this year during Online Registration, at two fundraising events and via email. Teachers were asked to submit their gift requests to PC-TAG with an explanation as to how the item(s) they were seeking would enhance the learning experience of their students. PC-TAG received gift requests totaling over $60,000.
After careful review of all requests, the PC-TAG Board of Directors approved to fund teacher requests totaling $44,745. Sarah Clark, PC-TAG Chair, presented the check to the Highland Park Independent School District (HPISD) at the district's Board of Trustees meeting on April 9, 2013.
The gift funds requests from teachers at all seven HPISD campuses in support of the district's Talented and Gifted (TAG) and enrichment programs. The current year gift enabled the purchase of enrichment items that include iPads for use in the classroom, curriculum enrichment materials, classroom technology, support for academic competitions, teacher scholarships and training, and summer curriculum development.
One of the teachers expressed her appreciation – "WOW!!!! WOW!! SO awesome!! I can't tell you how great this will be and how great this will help differentiate! So blessed! =) THANK YOU!!!
See
Funded Items
here.