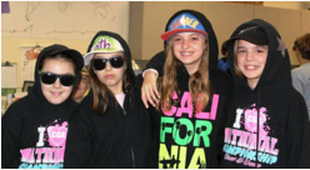 Students in Sarah Weatherford's sixth-grade social studies class were presented with a challenge to research, create and produce a short documentary about one country in the Southeast Asia region.

The challenge was to create a film to explain life in the country through the words and daily experiences of a young child from that nation. In cooperative learning groups, students used Weatherford's online Livebinder resource collection to study the geography, government, economic systems and culture of the people living in the country they were assigned. Students were able to collaborate between school and home by sharing research and visual content in their Digital Lockers in Gaggle.

Using iMovie on the ExMo Team iPads that were generously provided through the PC-TAG gift fund, students acted in and directed their own films. The seven-day process culminated with a glamorous Film Festival where students spotted "celebrities" such as Macklemore, Justin Bieber, various Disney princesses and several sharply dressed Hollywood executives in tuxedos. When all of the votes are in and tallied, a grand prize winners will be recognized.