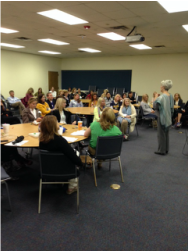 On March 26, Kathleen Fischer presented
Fastening Your Seat Belts: Preparing for Departure
to a packed room of over 65 parents.
She talked about how as
middle adolescence comes to an end and young adulthood beckons, a transition is underway for both parents and late teens. How are they doing at managing their emotional ups and downs? Are they able to be in charge of their own sleeping, eating, wellness? Are they able to spot good friends from the other kind? Can they step into a broader world and navigate unfamiliar social situations? She also talked about what else our kids need from us to be ready for self-sufficiency and prepared for the world after leaving home.
Check out Kathleen's website and blog for more information.
Click
HERE
for the handouts form the presentation.