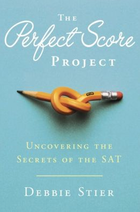 PC-TAG Parents' Book Club meets on Thursday, September 25 at 7:00 pm at Christine Goff's home, 3933 Wentwood Drive, 75225.

Our September book is The Perfect Score Project: Uncovering the Secrets of the SAT, by Debbie Stier. It all began as an attempt by Debbie Stier to help her high-school age son, Ethan, who would shortly be studying for the SAT. Aware that Ethan was a typical teenager (i.e., completely uninterested in any test) and that a mind-boggling menu of test-prep options existed, she decided – on his behalf -- to sample as many as she could to create the perfect SAT test-prep recipe.

Debbie's quest turned out to be an exercise in both hilarity and heartbreak as she took the SAT seven times in one year and in-between "went to school" on standardized testing. Here, she reveals why the SAT has become so important, the cottage industries it has spawned, what really works in preparing for the test and what is a waste of time.