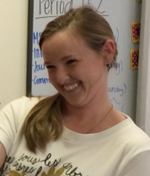 Congratulations to MIS Math Teacher Sarah Beth Haigler, the 2015 recipient of the PCTAG Teacher of the Year Award.

Ms. Haigler was nominated by students, parents and teachers who praised her encouraging and inspiring manner, as well as the significant extra time and energy she spends coaching the MIS/HPMS Math Team.

Ms. Haigler received her award on May 14 before a classroom of cheering students and Dr. Hitzelberger.


Through its Teacher of the Year nomination process, PC-TAG received numerous nominations for the entire English department at Highland Park High School. Although the English department was not selected as "Teacher of the Year," it did receive a special presentation from the PC-TAG Teacher of the Year selection committee to acknowledge this group's work and dedication throughout this past year.